If you're tired of applying mascara daily or struggling to curl your lashes with an eyelash curler, consider a Keratin Lash Lift and Tint Kit. This kit gives you naturally lifted, curled, and tinted lashes that last weeks. In this article, we'll look at a Keratin Lash Lift and Tint Kit, how to use it, and how to care for your lashes after treatment.
What Is A Keratin Lash Lift And Tint Kit?
A Keratin Lash Lift and Tint Kit is a cosmetic treatment that helps lift, curl, and tint your natural lashes. It is a semi-permanent solution lasting 6-8 weeks, depending on how well you care for your lashes. The kit includes a set of keratin-infused solutions, which are used to curl and lift the lashes from the base, giving them a natural-looking curl. The kit also includes a tinting solution that can be used to darken your lashes, making them appear fuller and more voluminous.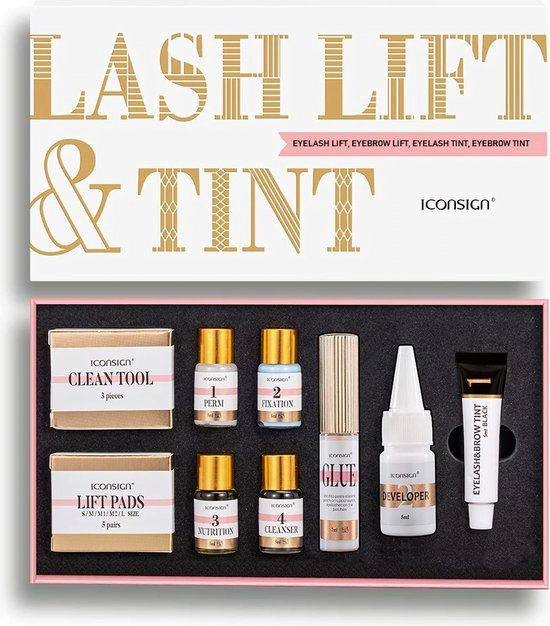 How To Use Keratin Lash Lift And Tint Kit
Before using the kit, you must prepare your lashes by removing any makeup, oils, or residues from the lash line. You can use a gentle cleanser or micellar water to clean your lashes thoroughly. Make sure to dry them completely before applying the solutions.
Preparing for Treatment
Before starting the treatment, it's important to do a patch test to ensure you're not allergic to any of the solutions. Apply a small amount of the solution on your inner arm and wait for 24 hours to see any reaction.
Next, use a lash lift tool to separate your lashes and place them on a silicone shield with the kit. The shield will determine the amount of lift and curl you want to achieve. Different shield sizes are available in the kit, so choose one that fits your eye shape and lash length.
Applying the Keratin Lash Lift and Tint
The first step in the process is to apply a keratin-infused lifting solution to the lashes. This solution is designed to break down the bonds in the lashes, allowing them to be lifted and curled easily. The solution must be left on the lashes for around 10-15 minutes, depending on the thickness and texture of your lashes.
Once the lifting solution is removed, a neutralizer is applied to the lashes to set the curl. This is left on for a few minutes before being wiped away.
After this, the tinting solution is applied to darken the lashes. This solution is also left on for a few minutes before being wiped away.
Aftercare and Maintenance
After the treatment, avoiding getting your lashes wet for the next 24 hours is important. This includes avoiding hot showers, steam rooms, or swimming pools. You should also avoid touching or rubbing your lashes as much as possible.
To maintain your lifted and tinted lashes, it's important to use a gentle eye makeup remover and avoid using oil-based products around the eye area. You can also use a lash conditioner to keep your lashes healthy and strong.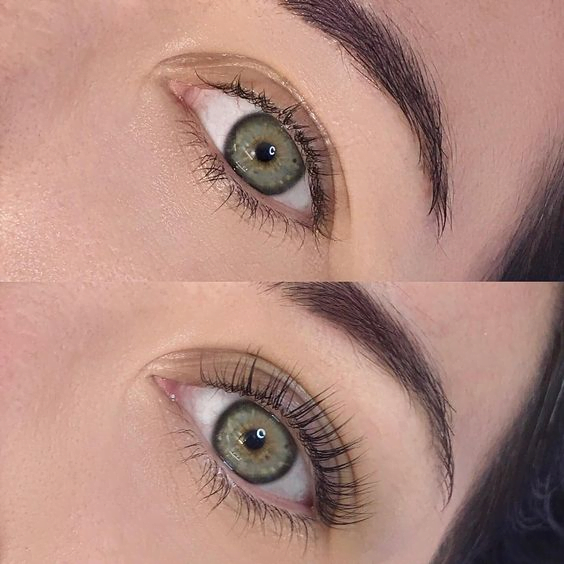 Benefits Of Using Keratin Lash Lift And Tint Kit
When it comes to enhancing the appearance of our eyes, mascara, and false eyelashes are two of the most popular solutions. However, with the rise of keratin lash lifts and tint kits, more and more people are opting for a natural, long-lasting alternative. Here are some benefits of using a keratin lash lift and tint kit.
Longer and Fuller-Looking Lashes
A keratin lash lift is a treatment that involves lifting and curling your natural lashes from the base, creating a longer and fuller appearance. This is achieved using a silicone shield or rod placed on the eyelid and then used to lift the lashes. The treatment lasts for six to eight weeks and can be repeated as often as desired.
A tint is then applied to the lashes, which darkens them and adds extra definition. The result is a dramatic yet natural-looking enhancement of your eyelashes without needing mascara or false eyelashes.
No Makeup Needed
One of the biggest benefits of using a keratin lash lift and tint kit is that you can skip the mascara and false eyelashes altogether. This is particularly appealing to people who prefer a natural look or have sensitive eyes prone to mascara irritation.
With a keratin lash lift and tint, you can wake up with beautiful, full lashes that look great all day without any makeup. This is particularly convenient for people who are always on the go. They don't need to spend time applying and removing makeup.
Safe and Effective
Another benefit of using a keratin lash lift and tint kit is that it is a safe and effective treatment. The products used in the kit are formulated to be gentle on your eyes and lashes while achieving the desired result.
Unlike false eyelashes, which can damage your natural lashes if not applied correctly, a keratin lash lift and tint kit is a non-invasive treatment requiring no glue or adhesive. It is also a great alternative to eyelash extensions, which can be time-consuming and expensive.
Conclusion
In conclusion, using a keratin lash lift and tint kit is a great way to enhance the appearance of your eyes without the need for mascara or false eyelashes. The treatment is safe, effective, and long-lasting, making it a convenient option for anyone who wants to achieve fuller, longer-looking lashes. Whether you're a busy mom, a working professional, or someone who wants to simplify their beauty routine, following the steps above, you can achieve a natural-looking lift and curl that lasts for weeks.